PANGONG TSO Tour
Tour Code: (PTT)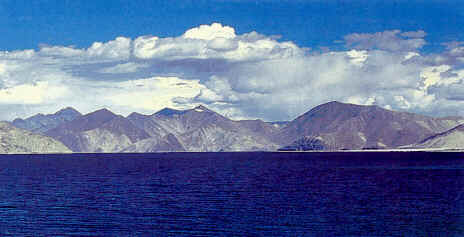 Situated at an altitude of 4350 Mtrs. Pangong Lake lies in the north east of Leh. This famous blue brackish Lake of Pangong is 5/6 Kms wide and over 144 Kms long with half of it running the other side of the "INDO CHINA BORDER". The mountains around the Lake are of various shape and colors.
The Lake with its color, an exquisite scintillating shade of blue, the orange and carmine tints of the sunset turn it into a wondrous work of nature. The villages, shepherd lands and the landscape en route to this lake are very interesting. This place may be approached by across the Changla pass (5486 Mtrs). Enjoy the inner secret and mysteries of the fascinating landscape.

Day 01 : Leh - Durbuk - Tangtse (126 Kms)
Leave Leh after breakfast drive through Kharu, Chemrey, Tagar Sakti to Changla pass 5486 Mtrs. While ascending Changla pass 5486 Mtrs. Enjoy the beautiful panoramic view of the villages below the pass. After crossing the pass halt for picnic lunch at Tsoltak, the summer pastureland of the yaks. Arrive Durbuk and visit the small monastery. One can visit to see the beautiful sunset at the Lake. Dinner and overnight in tents.
Day 02 : Tangtse - Leh
From there a short drive takes you to Lukung at the western shore of the lake and drive along the Pangong Lake upto Spangmik (8 Kms) the last point allowed for tourists. Enjoy the sunrise in the backdrop of the Lake. One rarely feels so close to nature and environment and the scenery is unforgettable. In the late afternoon drive back to Leh.